Off the heels of National Voter Registration Day and within the 90-Day Freeze Period, Republicans are attempting to remove voters from the rolls…again.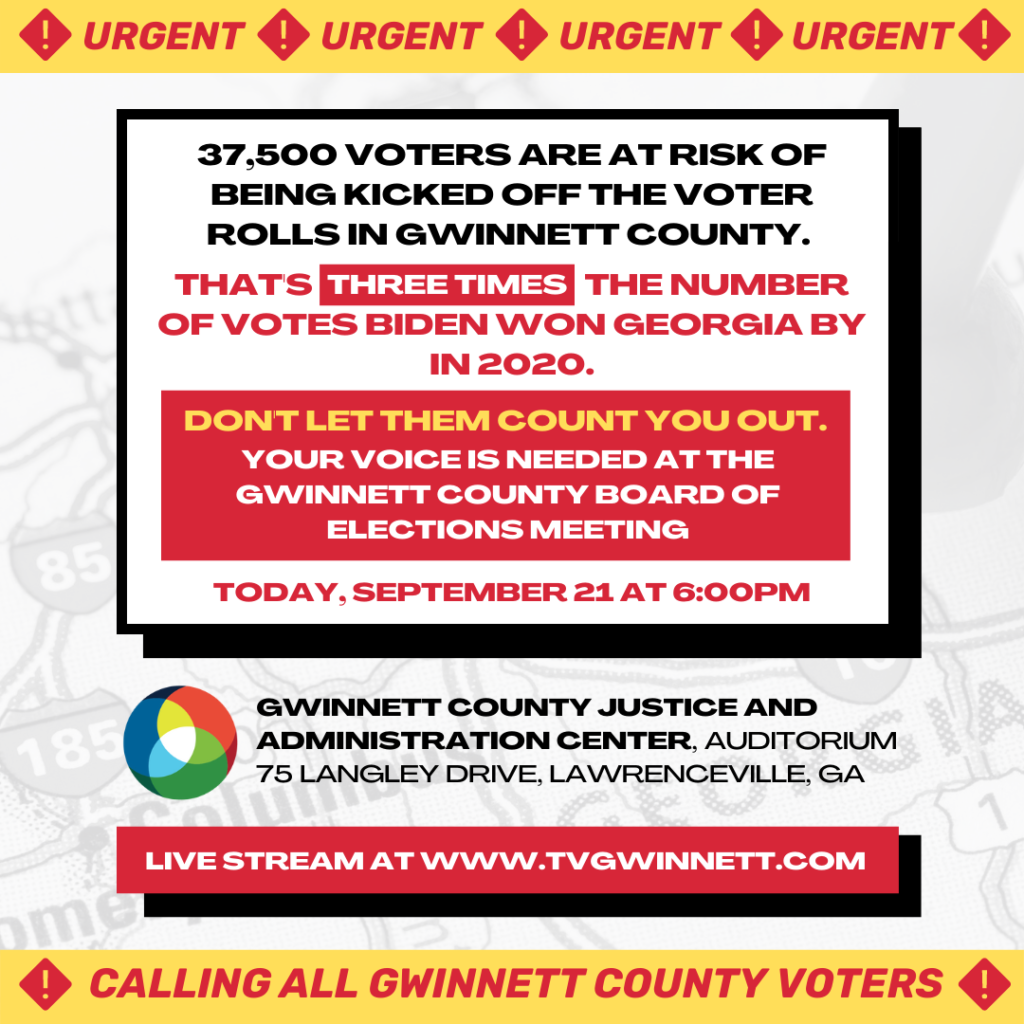 Atlanta, GA – Georgia has already experienced some of the nation's most rigorous voter cancellation practices in the country. A portion of Georgia's "Election Integrity" law (SB 202) that passed in Georgia's legislature last year in the wake of Donald Trump's defeat in the 2020 election allows any voter to challenge the voting eligibility of an unlimited number of individuals with no grounds other than a suspicion that a registered voter is actually not qualified to vote.
The effort taking place in Gwinnett today actually occurs outside the routine government-run purging process of removing people who have moved away based on voter lists, address records, or property tax documents.
"As a Gwinnett County native, I am enraged that right-wing organizations are targeting Gwinnett County voters' fundamental right to vote," said Care in Action Executive Director Hillary Holley. "These attacks are coming at a critical time in this election season, taking time and energy away from our hard-working Board of Election members and election administrative staff who must now deal with bogus claims instead of preparing for the beginning of early voting. This is another example of the right-wing looking to sabotage our elections, and Care in Action will continue to stand with our allies to fight for just and fair elections in Gwinnett County."
To put this in context:
Georgia has a history of voter suppression that includes Brian Kemp's efforts as Secretary of State that severely impacted voters of color during his 2018 bid for Governor.
Gwinnett County is the most diverse county in the state of Georgia with the 5 largest ethnic groups in the county being White (Non-Hispanic) (36.1%), Black or African American (Non-Hispanic) (27.3%), Asian (Non-Hispanic) (12.1%), White (Hispanic) (9.24%), and Other (Hispanic) (8.17%).
The 37,500 voters that are being challenged are more than 3 times the amount that solidified a win for Biden in Georgia. This initiative by the GOP is in direct response to the record number of voters who turned out for the November 2020 presidential election and the January 2021 special election.
Grassroots organizations from across the state will be in attendance at today's Board of Elections Meeting. These groups are calling for the community to join them in making their voices heard to ensure that voters are not unnecessarily removed from the voter rolls.
"Grassroots organizations are concerned about mass challenges, particularly in black and brown communities, especially after a group like "True the Vote" tried to remove over 300,000 people from the rolls in 2020. Now again, another GOP-fueled organization is trying to remove voters in Georgia's most diverse county. We have to be here because Georgia voters are under attack, and we stand for open and fair ballot access—especially in communities of color," said Aklima Khondoker, Chief Legal Officer of New Georgia Project Action Fund.
Georgia has one of the most blatant and aggressive voter suppression laws in the country and every effort should be made to ensure that every eligible voter has the opportunity to vote. This law is driven by blatant racism and represents politics at its very worst. Although the GOP is making every effort to create a comfortable cushion to win, their suppressive tactics will not stop the wave of progressive voters that are planning to show up to vote during the upcoming election.